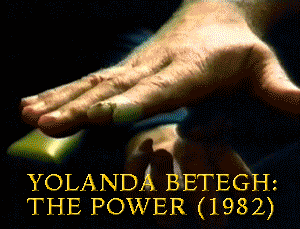 View Yolanda Betegh online in three
Flash 8 video clips - the advanced high quality Internet multimedia format.
You need Flash Player 8 to be able to see it. Download it first, please, if you don't have it already.
GET FLASH 8 FREE VIEW FLASH VIDEO
Download Full Movie
The Power
The Diary of a Healing Journey
South Africa 1982, 35min 31 sec, Windows Media
Cinematography: Horst Schier, Edited by Norbert Herzner and Michael Pakleppa, Narrated by Brendan Donnison and Heather Moers, Produced by Jorg Dattler and Michael Pakleppa
right-click the links below,
then choose " Save Target As"
(ONLY FOR FAST BROADBAND DSL CONNECTIONS)