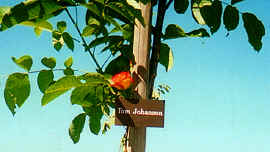 The tree with Tom's name (click photo to enlarge)
In Mammern, on the Swiss side of the Lake of Konstanz (Bodensee) a memorial was held for Tom Johanson by his friends, relatives and companions on 18 July 2003.
Half of his ashes were put under a young tree on a hill overlooking the lake. The other half was (through the help of Inka Jochum, the German organiser of the Dalai Lama and longtime friend and organiser of Tom Johanson) spread by a Tibetan Buddhist pilgrim monk on a special holy mountain in Tibet that was traditionally dedicated to healing and enlightenment. This place is till today the preferred burrying ground of H.H. Drikung Kyabgon Chetsang Rinpoche and the highest monks and lamas of Tibet, especially from the Drikung line.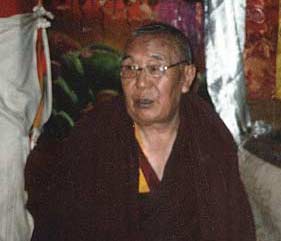 Tom's friend, a Tibetan Monk
In this memorial more than 50 guests arrived on a sunny Saturday afternoon at the 18 of July 2003. It was not a funeral ceremony, it was a celebration of love and togetherness of his closest friends and family and a wonderful opportunity to see how Tom's work has spread and created a network of healers and people that
teach and invent holistic and spiritual ways of living.
In a joyful afternoon of memory Tom's work and deep impact on so many people's life was remembered in many stories and speeches, as much as his humor, his individualism and unconventional, loving approach to everybody and anything in the world.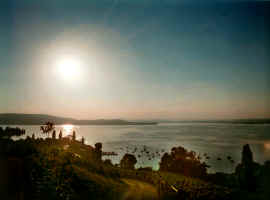 The Lake of Konstanz (click photo to enlarge)
Uli Sauter, one of his oldest companions and organizers, had made the last resting place of Tom's ashes in the West possible within his "Friedwald" (Peace Forest) project. Bill Coller, the world known British medium and Joyce and Jim Johanson, Tom's younger brother, came from England to be here in Switzerland for the memorial day.
Susi Lauer, Tom's life companion, organized the whole event and created a beautiful atmosphere of harmony and happy memory that had a healing effect like an afternoon with Tom. In the following long dinner many memories and experiences were shared and new contacts and friendships made. With some sessions of mediumship by Bill Coller at the evening and next morning the Tom Johanson Memorial Weekend was completed.
What stayed in everybody was a deep feeling of connectedness in a network of love. Thank you to all the participants for a wonderful moment of light, friendship and peace. And especially thank you to Susi Lauer who created this ceremony of hope, love and thanks for
Tom Johanson, who helped us all so much to understand
healing, compassion and love.